Well, that plan didn't work very well. I missed all of March. So be it. I did get a lot of things accomplished but not blogging about it.
If doing something new is about building the habit and building the habit is about a trigger, doing it and then getting the reward of the doing, blogging has not hit that mark for me yet. Time Time Time.
I'm using something simpler for my studio record: Day One, a simple elegant calendar based journal app -- which does not, in the version I have, support the desktop MAC OS, Here's snippet of what it looks like and what my month of March looks like. IT's a great app, so take a look -- and maybe I'll expand to the desktop version this month and try blogging from it! The pages below can be scrolled through to show you the different views of your posts.
Here's how I did this month 13 out of 20 days posting (I only set up the habit for serious about the 12th of the month while doing my planning of my ideal studio life.) The emphasis here is on tracking actual studio progress, not other work or art business, though sometimes that sneaks in as well.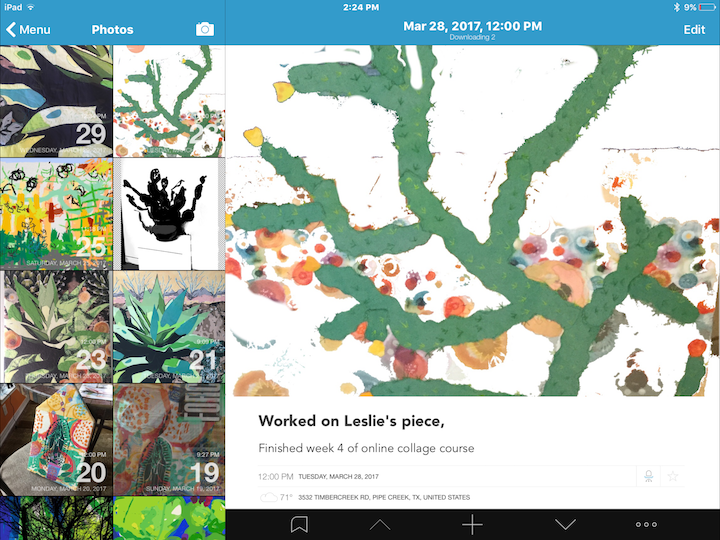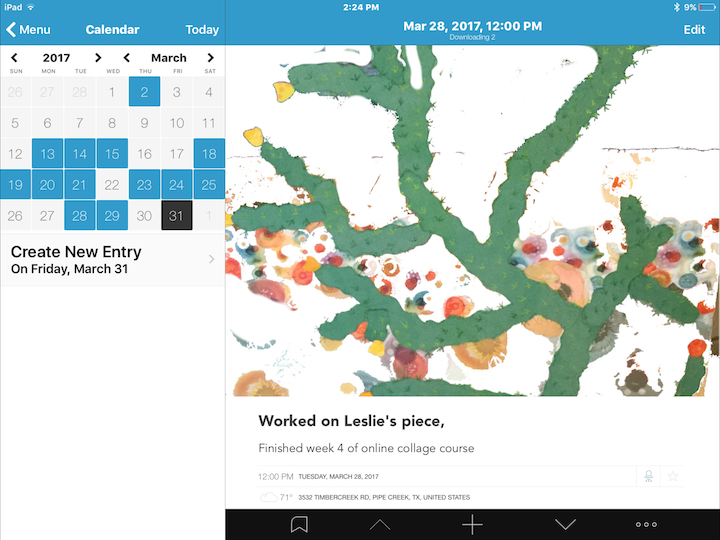 By the way, I also am continuing to use my tear away RMINDER lists on my desktop for daily, weekly and monthly TO DO lists. I love Todoist, but I found I could just get lost in it, is does SO many things. I'vm better off using my iCalendar for events, meetings, deadlines and time based appointments and REMINDERS for my priorities each day. It is SO satisfying to click off the little bubble and see the task disappear.
Meanwhile, here are a few pics of iPad experiments done as part of my online COLLAGE ON THE IPAD course. The next session of ART ON THE IPAD starts early May, so if you are interested in getting the most out of you iPad as an art tool, take a look here.